APOTHECARY COLLECTION HYDRATING BODY LOTIONS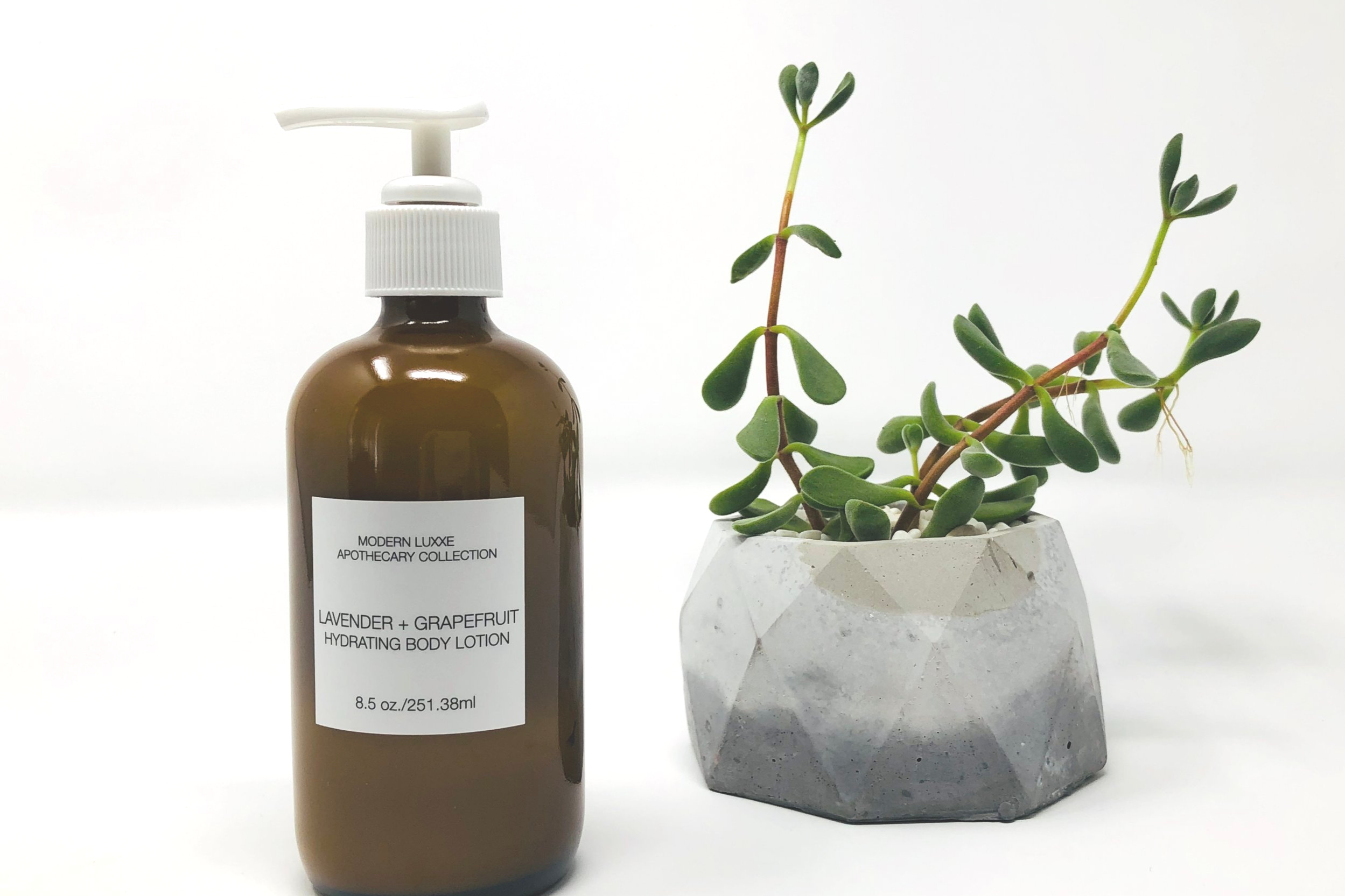 APOTHECARY COLLECTION HYDRATING BODY LOTIONS
OUR HYDRATING BODY LOTIONS HAVE A LIGHT, CREAMY TEXTURE THAT LEAVES YOUR SKIN SUPER HYDRATED WITHOUT FEELING GREASY BECAUSE IT EASILY ABSORBS INTO THE SKIN. A PERFECT PAIR WITH ONE OF OUR BODY POLISHES AND DEFINITELY ONE OF OUR TOP SELLERS.
MADE NON TOXIC INGREDIENTS

SCENTED WITH OUR 100% PURE ESSENTIAL OIL BLENDS

VEGAN AND CRUELTY FREE

PACKAGED IN 9 OZ. REUSABLE AMBER BOTTLES

REFILLABLE STATIONS AVAILABLE AT SELECT LOCATIONS PLEASE CONTACT INFO@LIQUIDLUXXE.COM FOR INFORMATION
NEVER FORMULATED WITH TOXIC AND HARSH INGREDIENTS, OUR APOTHECARY COLLECTION LOTIONS ARE SCENTED WITH OUR PROPRIETARY PURE ESSENTIAL OIL BLENDS.
AVAILABLE ESSENTIAL OIL BLENDS:
LAVENDER + GRAPEFRUIT

PEPPERMINT + ROSEMARY

LIME + LEMONGRASS
INGREDIENTS: DEOINIZED WATER, SAFFLOWER SEED OIL, ISOPROPYL MYRISTATE, GLYCERIN, STEARIC ACID, CETYL ALCOHOL, GLYCERYL STEARATE, SHEA BUTTER, VITAMIN E, VITAMIN A EXTRACT, ALOE VERA LEAF JUICE, CALDENDULA FLOWER EXTRACT, CHAMOMILE FLOWER EXTRACT, CUCUMBER FRUIT EXTRACT, ESSENTIAL OILS
USE: FOR MAXIMUM BENEFITS, APPLY AFTER SHOWER AND/OR EXFOLATION
FOR EXTERNAL USE ONLY
NO PARABENS, SULFATES, PHTHALATES, PALM OIL, FORMALDEHYDE